Looking to do gel nails at home to avoid a trip to the nail salon? 
Doing gel nails at home isn't so different from the nail salons. So long as you have the right equipment and have the patience to learn, you're going to find this to be rather enjoyable to do.
Will it work? Yes, perfectly… but only if you know how to do it right!
IS IT WORTH DOING GEL NAILS AT HOME?
While at home, maintaining a regular manicure routine helps keep your nails healthy and strong. This could be the best opportunity to learn and become skilled at DIY gel nail polishing.
Doing gel nails at home is indeed beneficial in the following ways:
It's cost-effective. When doing gel nails at home, you only need to worry about the cost of buying products and equipment rather than the additional service cost.
It's time-saving. At-home gel manicures don't require you to have to travel to the salon, saving you time spent on commuting.
You get to be creative. Coming up with unique gel nail polish styles allows you to experiment with color and design ideas to develop personalized nail art you've always wanted to try.
It's resourceful. Typically, each gel nail polish bottle can last you 20-30 manicures. Our S&L gel nail polishes contains more volume than the average gel polish bottle. They last really long.
It's healthier. Nail salons rush to remove the gel nail polish on your nails without adequate time for them to soak. If you DIY at home, you can soak the gel polish off more patiently so your nails won't damage.
WHAT YOU NEED FOR GEL NAILS AT HOME
Getting gel nails done is unlike a traditional nail polish procedure where equipment is not needed. With gel nails, you will need a kit of tools in order to properly apply gel polish.
What you need for a seamless at-home gel mani is:
LED lamp or UV Lamp
Glass or crystal files
Nail buffer
Cuticle oil
Orange wood sticks or stainless steel filers
Rubbing alcohol
Base coat
Top coat
Gel polish colors
1) LED OR UV CURE LAMP
Without a curing lamp that emits UV light, you won't be able to cure your gel nails.
It's possible to go au naturel by sunbathing your nails and taking advantage of the sun's UV rays, but it's not the most effective method for curing your DIY gel polish manicure because you'd have to wait for the weather to be right.
A UV lamp or LED curing lamp is the right choice here. However, our recommendation is to stick with a LED curing lamp as it omits less UV light and dries the gel polish the quickest.
2) GLASS OR CRYSTAL FILES
There are numerous types of nail files like emery board, glass, or crystal files. We recommend glass or crystal as they last longer. They have the file pattern etched into the glass or crystal, hence the longevity.
Good to note — cheap glass files have patterns that are glued to the surface rather than etched, which can wear off quickly. Glass or crystal are also best for your natural nails, as they smooth the nail tip to seal it rather than shredding the nail tip.
If you have a durable glass or crystal file, it can serve you many years since the pattern is etched on the glass and will not wear. They're perfect for personal use so minimize sharing. Also, make sure to clean them after a while to keep them safe for use. It's a tool you can't miss if you want to start your journey to do home gel nails.
3) NAIL BUFFER
Nail buffing is a necessary step in your home manicure. Most times, your nails' surface isn't smooth enough to go without one. The purpose of a nail buffer is to prepare your nails to adhere to the gel polish not only properly, but longer as well. To achieve perfect buffing, you need a nail buffer made of fine grit.
4) CUTICLE OIL
You need to moisturize your nails before proceeding with the gel manicure at home. The best solution for this job is cuticle oil. When you expose your nail cuticles to excessive sunlight, chlorine, salty water, or soapy water, the nails risk cracking, chapping, or drying.
Cuticle oil helps to bring such nails back to shape, making them beautiful and smooth hence easier to paint on.
5) RUBBING ALCOHOL
When applying gel polish to your nails, you should aim to maximize how long it serves you. This can be difficult if you don't prepare your nails properly before applying gel polish.
Rubbing alcohol helps with setting your nail bed with a clean and unblemished surface so that the gel polish can adhere to your nails as effectively as possible. This is especially important if you had used cuticle oil previously because the rubbing alcohol frees the surface of your nail bed of oil traces.
6) BASE COAT
A gel base coat sets the foundation for your gel nail application process.
It acts as a base between the nail plate and the gel paint polish, offering strength to your nail and the ability to sustain the paint for long. A gel base coat is the vital step to a long-lasting manicure.
You can use any brands for a base coat and top coat as long as they are specifically for gel nail polishes.
Besides its long-lasting features, base coats prevent polish stains on your nail as it allows the polish to stick and give your polished nail even texture. You don't have to worry about yellowing your nails when using base coating.
7) TOP COAT 
A top coat acts as an armor to your gel manicure. It protects your applied gel polish from the effects of environmental factors such as sunlight and water, both of which shorten the lifespan of your gel manicure.
The top coat is the last layer you apply during the gel polishing process. Its protective features also help in creating the highly radiant and glossy appearance you yearn for.
Like the base coat, a top coat polish is necessary for doing gel nails.
8) GEL POLISH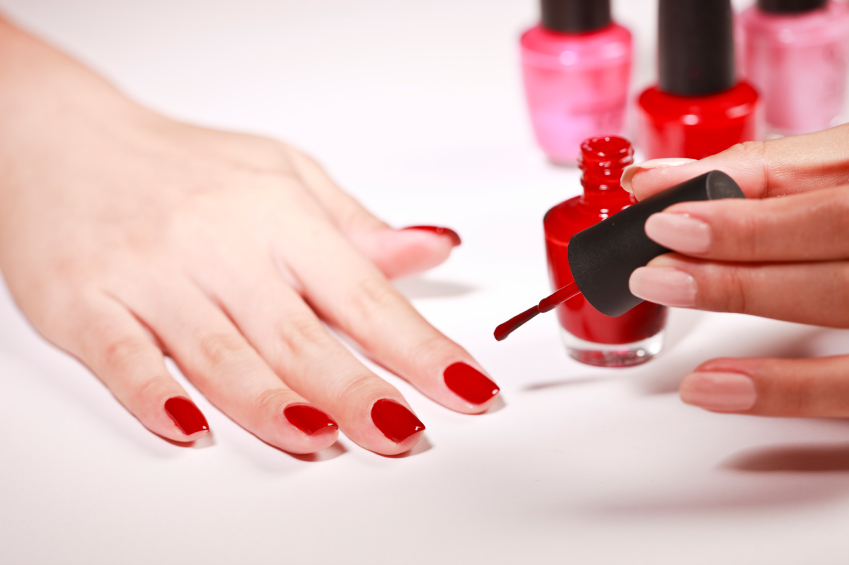 Finally, the gel nail polish. Choose a brand that celebrates its long-lasting formula and has many color options. For DIY gel nails at home, you want complimentary color options to work with as well as non-toxic ingredients because you'll be experimenting with them often.
All the colors in any of our gift sets compliment each other to give you endless color combinations to be creative as you experiment at home.